Time Pieces explores time and space as definers of place—what is place, what constitutes a sense of place, how place defines us. The work is an assemblage of seven three-dimensional maps in which time is the z-axis. The maps, one for each day of the week, record where I went and when over the course of each day. Their dimensions reflect both the area I covered and the time I was out and about. This piece draws on Torsten Hagerstrand's time-space model for understanding how we interact with our surroundings.
The towers are constructed of brass tubing and armback connectors that have been treated to achieve a patina like that formed with the passage of time. At the top and bottom of each tower is the map for the day, sandwiched between clear acrylic plates. Running between these maps is a copper wire that marks time and place simultaneously. Each one-inch increment of wire is equal to five minutes, except where there are brass coils and washers. Each brass coil denotes an hour.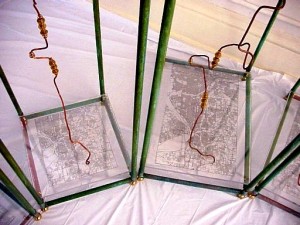 Time Pieces is a Blanche Dubois project. In the making of it, I have, like the older sister in A Streetcar Named Desire, "always relied on the kindness of strangers." Many people — most of whom I didn't know until I asked them for help — gave generously of their time, experience, knowledge and resources to help me create Time Pieces, including:
Frank Stone, who not only saw where I wanted to go and showed me how to get there but also gave me the run of his studio to do it.
Scotty Griswold, who lent his wisdom and his hand whenever I needed it.
Kris Tierney of the Land Management Information Center at Minnesota Planning, who gave of her own time and considerable patience to teach me to use ArcView.
Ken Johnson of the Geodetics Unit of the Minnesota Department of Transportation, who lent me the GPS equipment and processed the data I collected.
David Arbeit of the Land Management Information Center at Minnesota Planning, whose dissertation topic inspired the idea in the first place.
To these people — and all the friends who encouraged me in this journey, even when they had no idea what I was talking about — I am forever grateful.